Shopping
West Point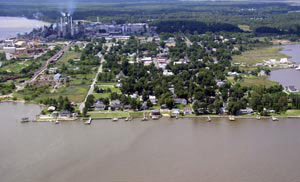 Historic Walking Tour
Historic Walking Tour Stop at Town Hall at 329 Sixth Street for a copy of the West Point Historic Walking Tour Map or call ahead to 804.843.3330 for a copy to be mailed to you. This tour starts on 14th Street and follows through the historic downtown area along the sidewalks which follow the grid pattern of the streets. The historic buildings found in the the district include period representatives from the Victorian Italianate, Queen Anne, and Gothic Revival architectural styles, as well as Sears mail-order houses. At 5th Street, the York Wholesale Building stands as the sole survivor of a once extensive warehouse, wharf and railroad district. What is believed to be the oldest brick dwelling in West Point stands at 206 Main Street. It was built in 1887 by Robert Dudley, son of Alexander Dudley, who headed the Richmond and York River Railroad. The tour continues to Beach Park, once the site of the 200 room Terminal Hotel, which offered recreation facilities to thousands including a boardwalk, amusement park, skating rink and dance pavillions. This point offers a good view of the confluence of the Mattaponi and Pamunkey Rivers into the York River. Looping back towards 7th Street, the tour passes sites once occupied by wharfs, oyster houses and ferry boat landings and site of the future 7th Street Marina.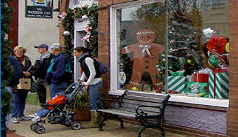 Christmas on the Town
Christmas on the Town , sponsored by the West Point/Tri-Rivers Chamber of Commerce, will be held Sunday, December 5 from 1:00 p.m. to 6:00 p.m. along Main Street in West Point, Virginia. Downtown merchants will offer special sales, door prizes and refreshments and crafts and handmade collections will be available at several locations this year. Those locations include: Santa's Blazing Bazaar (gifts, food & crafters) located at the WP Firehouse on 7th Street, The OLBS Youth Group will feature gifts, a bake sale, BBQ dinner and more at the Knights of Columbus Hall on 7th Street and The Gift Box, featuring many craft vendors will be located at The Downtown Business Center. Santa will be arriving by parade at 2:00 and will be available for visits and photos from 2:30 – 4:00 at C&F Bank on 8th Street. After the parade, there will be pony rides located in the C&F Bank parking lot from 2:30 – 4:30 or a train ride (weather permitting) at the parking lot on 6th and Main Street. Children ages 4-10 may also stop in The Elf Workshop, located at the 8th Street side entrance of C&F Bank. Dinner with BBQ will be at the Knights of Columbus Hall on 7th Street. The official Christmas Tree Lighting Ceremony will be held at 5:30 pm at Beach Park on 1st Street. Enjoy cookies, hot chocolate and caroling as friends gather around the tree to remember those honored by The Tree of Life.
King William County
Frugaldudes
4225 Richmond Tappahannock Hwy
King William, VA 23086 804-769-3810
Frugaldudes owners, Joyce and Dean Truax, are a delightful couple; their store has a little bit of everything. Strolling about in Frugaldudes is always a pleasant experience!
Warehouse Antiques
181 Highway 360
King William, VA 23086
804-769-3189
King William County Historical Society Gift Shop
Our museum is located in the old Circuit Court Clerk's office at King William County Courthouse, 227 Horse Landing Road King William, VA 23086. Phone 804.769.9619 or email kwhs@kingwilliamhistory.org. Hours of operation are March through November, Saturdays and Sundays1-5 pm and by appointment. Tours, groups and students welcome.
http://www.kingwilliamhistory.org

Gloucester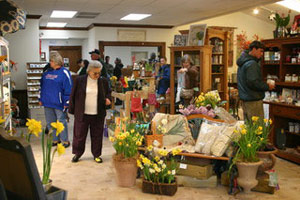 Brent and Becky's Bulbs
Brent and Becky's Bulbs 7900 Daffodil Lane
Gloucester, VA 23061
A visit to 'The Bulb Shoppe & Gardens' at Brent and Becky's Bulbs is a must for every gardener! At The Bulb Shoppe you will find everything from local artwork and home accessories to books and gardening tools. Since our specialty is flower bulbs, we have everything you could need for flower bulb gardening. During the spring and fall bulb planting seasons we have the largest bulb selection anywhere! Take a walk outside and sit under the gazebo to enjoy our Courtyard garden, or stroll down the pathways to view the Living Catalog Garden. This garden is a sample of everything offered in the previous seasons catalog. The gardens are always changing giving you something new to see! The Bulb Shoppe and Gardens are open Tuesday - Saturday, 10 AM to 4PM, mid-February through December. Visit our website for upcoming events. Telephone: Toll Free: (877) 661-2852 Local: (804) 693-3966 Fax: (804) 693-9436 Email: denise@brentandbeckysbulbs.com
Website: www.brentandbeckysbulbs.com
Stagecoach Markets & Antique Village
6049 George Washington Memorial Highway
Gloucester, VA 23061 A "goldmine" of antiques and collectibles. More than 50 dealers of antiques, collectibles and used merchandise; including furniture, housewares, clothing, coins, concrete lawn items, trading cards...you name it, you will find it here! Approximately 100 flea market tables occupied every weekend. Come early! OPEN Saturday and Sunday only. Hours: Opens: 6:00 AM Closes: 5:00 PM
Telephone: Phone: (804) 693-3951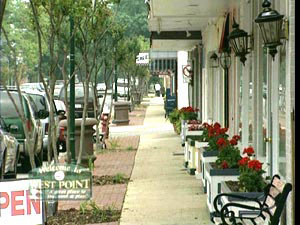 Historic Downtown Gloucester Main Street Shops
Historic Downtown Gloucester Main Street Shops
The Silver Box
6630 Main St, Gloucester, VA, 23061
804-694-3100 Retail sterling silver jewelry & gifts. Array of Arthur Court pewter line. Vera Bradley handbags, accessories, and rolling luggage. Pandora jewelry. Douglas Paquette flip flops, belts and beach bands. Clothing, shoes.
Laurel Shelter, Inc. Thrift
6744 Main St, Gloucester, VA, 23061
804-695-2790 All merchandise sold in the store is donated by members of the community, and all profit helps run the local shelter for victims of domestic violence and sexual assault. New merchandise is added to the sales floor on a daily basis.
Vashtis Jewelry & Gift
Main St Edgehill Shopping Ctr
Gloucester, VA 23061
804-693-3434 Pearls & Color Stone Jewelry, Jewelry & Watch Repair, Giftware For Every Occasion, Engraving, Diamond, Citezen-Belair, Christine Geneve 14k Gold, Christine Geneve
Smith Florist & Gift Shop
6626 Main St
Gloucester, VA 23061
804-693-2010 Gift Shop, FTD, Balloons, Baskets, Candles, Centerpieces, Church Services, Claire Burke, Department Snowbabies 56 Inc, Flags, Funerals, Gifts, Yankee Candles, Weddings, Teleflora, Stuffed Animals, Social Functions, Silk's, Seasonal Decorations, Plant's, Over 150 Years of Combined Floral Experience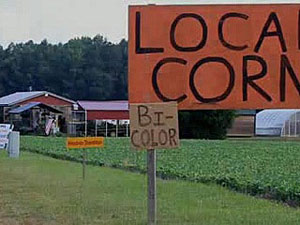 The Farmer's Daughter Produce
The Farmer's Daughter Produce
10935 George Washington Memorial Highway, VA 23061
(804) 694-0569
Farm market specializing in fresh produce, flowers and plants, homemade preserves, jams, etc. Christmas trees, wreaths, roping and more during the holidays. Open daily April-Christmas Eve, 9:00 a.m. until dusk.












Williamsburg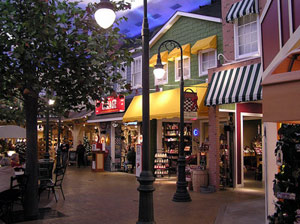 Williamsburg Shopping
Williamsburg Shopping Shopping is one of the many reasons tourist visit Virginia, from craft shops that feature famous artists and Virginia crafters to factory outlets malls for bargain hunters. Virginia's country roads are filled with auctions houses and antique shops and where treasures from years gone by can still be found at flea market prices and many of those great outlet malls and specialty shops can be found in the Williamsburg area. Here are just a few:


Merchants Square Shops and Restaurants
Located adjacent to Colonial Williamsburg's Historic Area, Merchants Square is a charming retail village. Featuring the best in personal service and top quality, Merchants Square boasts more than 40 shops, a variety of restaurants, and even an art gallery. You'll quickly discover that specialty shopping is its specialty. Enjoy free WiFi service!


Williamsburg Premium Outlets
5715-62A Richmond Road
Williamsburg, VA 23188
(757) 565-0702
Formerly Prime Outlets - Williamsburg
Find impressive savings at Burberry, Coach, Cole Haan, Dooney & Bourke, Hugo Boss, J.Crew, Juicy Couture, Kenneth Cole, Lacoste, Michael Kors, Nautica, Nike, Polo Ralph Lauren and more.
Williamsburg Pottery Factory
An astonishing array of handmade items made by artisans at the Pottery. In addition to the famed salt glaze pottery, flower arrangements, custom framing, and lamp making, make for an exciting shopping adventure. The Pottery also offers silk and dried flowers, greenhouse plants, cement gardenware, christmas and crafts, framed art and much more!
Yorktown
Riverwalk Landing
328 Water Street
Yorktown, VA 23690
Website: www.riverwalklanding.com

River Shop - sample specialty waterfront shops designed in the spirit of Colonial architecture that offer clothing, jewelry, quilts, art, patriotic items, home decor, and more.
River Dine – savor dining at one-of-a-kind restaurants, many with a waterview or grab an ice cream cone and enjoy it as you stroll by the river or sit on the beach.
River View - enjoy a mile-long pedestrian walk along the York River from the Yorktown Battlefield to the Yorktown Victory Center. Like the water? Enjoy a sail on the Schooner Alliance or make your own fun on the beach.
Up the hill in the village are even more shops, galleries, museums and fine dining. Special events year round feature musical performances, artists, fresh local food, living history and fireworks.
Plan your visit to coincide with festivities to include: Market Days with plenty of local food and more for sale, Shaggin' on the Riverwalk with beach music and Motown, and Rhythms on the Riverwalk with jazz and swing. Come back for July 4th and Yorktown Day (Oct. 19) for patriotic concerts, performances by the Fifes and Drums of Yorktown, plenty of food, and other entertainment. Holiday events include a lighted boat parade and visit from Santa.

Ben & Jerry's (757) 969-1990
Come enjoy a fun place for the whole family. Featuring 30 scrumptious flavors of world famous super premium ice cream, low fat yogurts, natural sorbets, delicious shakes, sundaes, frozen drinks and all natural fresh fruit smoothies. WiFi and ATM available

Claire Murray (757) 877-3353
Visit Claire Murray's, where you will find her heirloom quality, 100% wool hand-hooked rug creations, home accessories, apparel, needlework crafts, and bedding from this nationally known New England based artist.

Founding Fathers (757) 875-1776
Features Colonial home decor, George Washington's Mount Vernon Collection, lighting, pottery, rugs, books, jewelry, floral arrangements, candy and homemade fudge.

Green Mountain Coffee Cafe' (757) 969-1990
Features beans that are selected from the top one percent of each crop, all organically grown and pesticide free, and coffees that are "Fair Trade" certified. Fair trade improves the quality of the farmer's lives and the coffee. Come enjoy a delicious Espresso drinks like Cafe' Mocha, Hazelnut Latte, Cafe' Americano, or a wonderful cop of brew. All freshly ground and made to order. WiFi and ATM available

Nicks Riverwalk Restaurant (757) 875-1522
All American Dining on the Yorktown Waterfront. The Riverwalk room serves the foods, beers and wines of America. The Rivah Cafe' celebrates the great American sandwich, and The Landing caters to private functions. The restaurant will be open Tuesday-Sunday from 11:30 - 2:30 for lunch and 5:00-9:00 for Dinner. The Rivah Cafe will be open Tuesday-Thursday from 11:30 - 9:00 pm. Closed in both restaurants on Mondays.

Patriot Tours & Provisions, LLC (757) 969-5400
Enjoy a guided Segway PT tour through historic Yorktown or rent a bicycle for a self-guided tour. Beach provisions, snacks and various sundries are available.

River Fruit Tropical Wines (757) 369-0525
Florida's original tropical, citrus and berry wines...there are NO GRAPES in our wine. Free wine tasting daily.

Stars & Stripes Forever (757) 898-0288
Features all things patriotic ranging from books, art, military memorabilia, flags, neckties and hats, toys and stationary. Other items featured include apparel, books, music, collectibles, jewelry, and bags.

Studio Foray (757) 969-1094
A hands-on instructional arts and crafts studio and retail store. Features full line of Swarovski Crystals, semi-precious stones; silver, copper, gold findings; beads; and beading supplies.

The Yorktown Onion (757) 872-8232
As unique to the area as its botanical namesake, The Yorktown Onion blooms with excitement year-round offering permanent silk arrangements, one-of-a-kind floral center pieces, garden statuary, unique art, spa gifts and high design home accessories. Employment Opportunity Available - see here.

Viccellio Goldsmith (757) 890-2162
J. Henry Viccellio III, master goldsmith and precious metals craftsman, offers a line of beautiful and distinctive fine jewelry and handcrafted custom creations that reflect individual customers' unique style.

Yorktown Republic (757) 969-5500
A woman's secret closet...Yorktown Republic - The place to find eclectic tropical fashion and women's apparel you can't find anywhere else. We call it the chic boutique along Riverwalk Landing. Find your style. Timeless, trendy and colorful clothes; stunning accessories, funky purses and exquisite hand designed silver and gold jewelry by Dan Grantham.

Jamestown
Colonial Jamestown offers a wealth of activities for exploring the first permanent English settlement in North America and is jointly preserved and administered by the Association for the Preservation of Virginia Antiquities and the National Park Service-Colonial National Historical Park.
Visitors can share the moment of discovery with archaeologists and witness archaeology-in-action at the 1607 James Fort excavation, tour the original 17th-century church tower and reconstructed 17th-century Jamestown Memorial Church, take a walking tour with a park ranger through the original settlement along the scenic James River, and even "meet" a 17th-century personality.
Richmond
Discover history, adventure and an easily accessible location in the Historic Richmond Region. Here, more than 400 years of American history live on through magnificent architecture, monument-lined cobblestone streets, and world-class museums – for an experience that's anything but textbook. But the area makes history in other ways, too. Brave the gorgeous yet intense James River, which distinguishes the Richmond Region as the only urban setting with Class IV rapids. It's just one form of outdoor recreation for thrill seekers. Event planners will love the Greater Richmond Convention Center, a prime destination for meetings and groups. See how the Virginia Museum of Fine Arts is expanding its world-class offerings. And with more than 900 restaurants, diverse shopping and enticing events, the Region is ideal for weekend getaways and vacations.
Mathew's County
Donk's Theater Donk's Theater began as a movie theater but eventually closed and sat empty until a few of us decided to start Virginia's Lil' Ole Opry, fashioned after the Grand Ole Opry. The first half of the show features a performance by each of our Opry regulars, with the entire second half featuring one cast member--a different performer each show. In addition, we feature seasonally-themed shows, special appearances by regional artists, and a talent search. http://www.donkstheater.com/
Northern Neck
Tides Inn Five Star Resort Bordered by historic Chesapeake Bay to the east, the Potomac River to the north, and the Rappahannock River to the south, the Tides Inn, a Chesapeake Bay resort, exudes a Virginia setting like no other.
The Tides Inn offers a serene setting with its own marina, 18-hole golf course and a luxurious spa. The perfect retreat for those who wish to combine relaxation and rejuvenation in Virginia's countryside.
Among the most popular services provided by Tides Inn are our famous Virginia golf vacations, Virginia wedding reception parties, as well as our renowned Chesapeake marina. Continue reading to learn more about everything there is to do and see at The Tides Inn!
Virginia Golf Vacations at Golden Eagle Golf Course Among the top golf locations in the nation, the Golden Eagle Golf Course provides one of the most challenging and enjoyable Virginia golf vacations for beginners and professionals alike. The Golden Eagle hosts several tournaments throughout the year and provides private lessons for guests. Please see the Golden Eagle Golf page for more information on Virginia golf vacations.