Local Attractions and Events
King and Queen County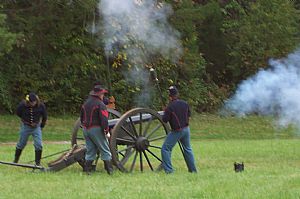 Civil War Re-Enactment at Locust Grove
Civil War Re-Enactment at Locust Grove Held the 1st weekend in November at Locust Grove (the former site of Fort Mattaponi). Locust Grove is located on Route 629, in Walkerton. For more information, call (804) 769-8201. http://peninsulaartillery.bizland.com/Directions.htm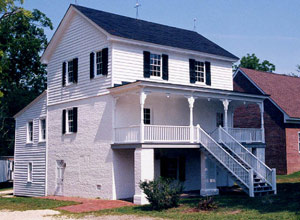 Courthouse Tavern Museum
Courthouse Tavern Museum Located off Rt. 14 at King and Queen Courthouse, take Allen Circle (Route 681) and continue to 146 Courthouse Landing Road. The Tavern is on the right just past the old Courthouse. The Tavern Museum features exhibits on the history of King and Queen County, the Courthouse Tavern, as well as the Courthouse Green Historic District. Exhibits showcase the building as an 1800's period tavern. The Tavern Museum displays a period dining room, parlor and two bedrooms. The Museum is a project of the King and Queen Historical Society. Those interested in genealogical research will find the King and Queen Society's Historical archives and library, in addition to the internet access, most helpful. Beginning in March 2004, the hours of the museum are Fridays and Saturdays from 10:00 a.m. until 4:00 p.m. and Sundays from 1:00 p.m. til 5:00 p.m. For more information, call (804) 785-9558. http://www.kingandqueenmuseum.com/
Dragon Run Swamp Ranked as the most important ecological site in Virginia by the Smithsonian Institute, the Dragon Run Swamp is the boundary between King and Queen County and Middlesex County. Approximately 72 square miles of the Dragon Run lies in King and Queen and offers opportunities for fishing, canoeing and wildlife watching. The Dragon Run is a complex ecosystem of streams and waterways; precautions should be taken when paddling there. If unfamiliar with the area you are planning to explore, get help from someone who is familiar with the Dragon Run by contacting Friends of Dragon Run at (804) 693-5246. http://www.dragonrun.org
J. C. Graves Historic Museum Located on Route 633 near Walkerton, visitors to the J.C. Graves Museum will learn about local and national African-American history, slavery, military service and accomplishments. Local artifacts, historic photographs and items used on nearby plantations are also on display. Visits by appointment only; call (804) 769-2357.
King and Queen Fish Hatchery Fish hatcheries facilitate sport fishing by stocking public bodies of water with sport and commercial fish including shad, catfish, walleye, bass and muskie. Located off State Route 14 (The Trail) near Stevensville, the King and Queen Fish Hatchery is open for tours and personnel are available for educational presentations. A hiking and nature trail is available for your enjoyment! For more information, call (804) 769-3185. Department of Game and Inland Fisheries http://www.dgif.virginia.gov/vbwt/site.asp?trail=1&loop=CMA&site=CMA06
Locust Grove Farm This farm which has been in the Walker family for over 300 years, was developed from a grant through the King of England on February 26, 1665. Located off County Route 629 near Walkerton, Locust Grove's grounds and gardens are open for day retreats, corporate parties and picnics, weddings and receptions, corporate meetings and living history events. To schedule your event on the beautiful banks of the Mattaponi River, call (804) 769-8201 or (804) 769-2402. Home of the annual Locust Grove Wine Festival. http://www.locustgrove1665.com/
Newtown Dragway Located on County Route 625 at the upper end of King and Queen County, the track has 35' wide lanes and over 900' of shutdown area. Gates open at 5:30 p.m., time runs start at 6:00 p.m., and eliminations start at 8:00 p.m. Spectator admission is $12.00. For more information, call (804) 769-8215 or (804) 633-0177. http://www.newtowndragway.com
Rainbow Acres Campground Located on County Route 631 off State Route 14 (The Trail), Rainbow Acres is open to the public year round for family camping and group activities such as picnics and reunions. The recreational hall can accommodate 100+ for various functions such as classes, weddings and receptions and banquets (no cooking facilities available.). Marine and RV dump stations, gasoline, two boat ramps, fishing piers, general store, RV supplies and covered boat storage are available, also. For more information, call (804) 785-9441. http://www.rainbowacrescampground.com/
Rappahannock Tribe Cultural Center The Rappahannock Tribe incorporated in 1921 and operated tribal schools until 1962. The Rappahannock Tribe has about 300 members across the region with their Cultural Center located on County Route 623 in the Indian Neck (upper) area of King and Queen County. Chief G. Anne Richardson is the first female Chief to be elected among the recognized tribes of Virginia since the mid-sixteen hundreds. The Cultural Center facilities provide space for classes and special cultural events, conferences, seminars and meetings. The Center is complete with a dining hall that seats approximately 50, an auditorium and break out rooms. Plans for a Native American Museum located at the Center are underway. For more information about the Rappahannock Tribe Cultural Center, call (804) 769-0260. For more information about the Rappahannock Tribe see http://www.rappahannocktribe.org/
The Mattaponi River The beautiful and pristine Mattaponi River defines the southwestern boundary of the county. The river provides opportunities for fishing, boating, canoeing and wildlife watching. To find access sites to the Mattaponi, go to Transportation and click on Waterways. This will direct you to public and private access sites as well as tidal charts.
Tucker's Recreational Park and Marina >"Tucker's," located on County Route 666 off County Route 601 near Gressit, offers boat ramp access to the York River, boat rental and storage, and a bait and tackle shop at the Recreational Park. For more information, call (804) 785-4464.

West Point
Fishing and Boating The popular West Point facility of Glass Island Landing is owned and managed by the Virginia Department of Game and Inland Fisheries. Glass Island Landing provides fishing access, a boat ramp, picnicking facilities, and parking for approximately 35 vehicles and trailers. See more information at the Bureau of Inland Games and Fisheries. Turn left on Glass Island Road just before reaching the Lord Delaware Bridge, east of West Point and follow the road to the parking lot.
Access to the York River is provided at Beach Park located in West Point's Historical District. This park provides an exceptional view of the York River and gives the visitor an appreciation for the dynamic confluence of the Mattaponi and York Rivers. Follow Main Street to the end to reach Beach Park.
Riverwalk Trail Cyclists and walkers enjoy the Riverwalk Trail. From Glass Island and Kiwanis Park, follow the walking path under the Lord Delaware Bridge. This route parallels the Mattaponi River past marsh land and includes scenic overlooks. This historic area is near the site of the former Indian village of Cinquotek, chief village of Opechancanough, brother of Chief Powhatan. Historians believe that this was the site where Captain John Smith was taken as a prize captive in 1607. The Trail concludes around 8th Street near former ferry landings and warehouses from the 1800's. Loop back on the Trail or turn left on Lee Street in the Historic District and pick up the Historic Walking Tour. Lee Street will connect to another spur of the Riverwalk Trail and return you to your parking area.
Historic Walking Tour Stop at Town Hall at 329 Sixth Street for a copy of the West Point Historic Walking Tour Map or call ahead to 804.843.3330 for a copy to be mailed to you. This tour starts on 14th Street and follows through the historic downtown area along the sidewalks which follow the grid pattern of the streets. The historic buildings found in the the district include period representatives from the Victorian Italianate, Queen Anne, and Gothic Revival architectural styles, as well as Sears mail-order houses. At 5th Street, the York Wholesale Building stands as the sole survivor of a once extensive warehouse, wharf and railroad district. What is believed to be the oldest brick dwelling in West Point stands at 206 Main Street. It was built in 1887 by Robert Dudley, son of Alexander Dudley, who headed the Richmond and York River Railroad. The tour continues to Beach Park, once the site of the 200 room Terminal Hotel, which offered recreation facilities to thousands including a boardwalk, amusement park, skating rink and dance pavillions. This point offers a good view of the confluence of the Mattaponi and Pamunkey Rivers into the York River. Looping back towards 7th Street, the tour passes sites once occupied by wharfs, oyster houses and ferry boat landings and site of the future 7th Street Marina.
Downtown Playground Children may enjoy the downtown playground at Kirby and Main with its swings, climbing equipment and slides.
Christmas on the Town Christmas on the Town, sponsored by the West Point/Tri-Rivers Chamber of Commerce, will be held Sunday, December 5 from 1:00 p.m. to 6:00 p.m. along Main Street in West Point, Virginia. Downtown merchants will offer special sales, door prizes and refreshments and crafts and handmade collections will be available at several locations this year. Those locations include: Santa's Blazing Bazaar (gifts, food & crafters) located at the WP Firehouse on 7th Street, The OLBS Youth Group will feature gifts, a bake sale, BBQ dinner and more at the Knights of Columbus Hall on 7th Street and The Gift Box, featuring many craft vendors will be located at The Downtown Business Center. Santa will be arriving by parade at 2:00 and will be available for visits and photos from 2:30 – 4:00 at C&F Bank on 8th Street. After the parade, there will be pony rides located in the C&F Bank parking lot from 2:30 – 4:30 or a train ride (weather permitting) at the parking lot on 6th and Main Street. Children ages 4-10 may also stop in The Elf Workshop, located at the 8th Street side entrance of C&F Bank. Dinner with BBQ will be at the Knights of Columbus Hall on 7th Street. The official Christmas Tree Lighting Ceremony will be held at 5:30 pm at Beach Park on 1st Street. Enjoy cookies, hot chocolate and caroling as friends gather around the tree to remember those honored by The Tree of Life.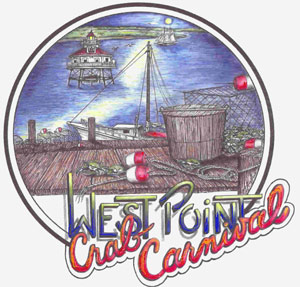 Crab Carnival
Crab Carnival This annual event, usually held the first weekend in October, is famous throughout Virginia. Look here for more information on current dates for parades, bands, booths, bike races, street fairs, and of course, plenty of seafood.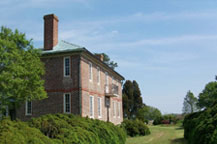 Chelsea Plantation
Chelsea Plantation Historic Chelsea Plantation is considered one of the finest examples of early 18th Century Georgian architecture in the United States. The grounds of Chelsea encompass nearly five acres of lawn with extensive English Boxwood gardens, overlooking the Mattaponi River. During the Revolutionary War, General LaFayette's army was encamped on Chelsea Plantation with the mansion house serving as head quarters. In 1764, Thomas Jefferson attended a wedding in the gardens of Chelsea. For Tour information please call 804.843.2386. Chelsea Plantation
874 Chelsea Plantation Lane
West Point, VA 23181
Main Number: 804- 843-2386
King William County
Golf West Point Country Club offers nine holes of golf with reciprocal arrangements with other private clubs. West Point Country Club
Route 30
West Point, Virginia 23181
King William County
Phone(s): (804) 843-3168 http://www.worldgolf.com/courses/usa/virginia/westpoint/west-point-country-club-private.html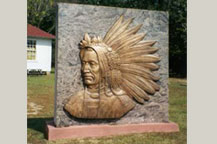 Indian Museums
Indian Museums The Pamunkey Reservation is one of the oldest in the nation and has a small tribal museum, shad fishery and pottery school. The museum collections, organized by periods, provide an in-depth history of the ancient and modern Pamunkeys with some artifacts dating back 12,000 years. One site that attracts attention on the reservation is Powhatan's grave site. Going east, turn left on Rt 30, then follow the signs to the reservation.
Pamunkey Indian Museum
Route 1, Box 2011
King William, VA 23086
Phone: 804-843-4792
Pamunkey Chief William P. 'Swift Water' Miles greets tribe family members as they prepare to go fishing from the reservation.
The Mattoponi Museum is less formal. It holds many artifacts, some dating to 5000 BC, which are labeled with handwritten index cards. One of its most famous exhibits is a necklace that once belonged to Pocahontas. Often referred to as Pocahontas' people, the Mattaponi are the direct descendants of Powhatan and Pocahontas. Going east, turn left on Rt 30, then follow the signs to the reservation. For more information, call 804-769-2194. http://www.pamunkey.net/museum.html
King William Alpacas 22743 King William Road
King William, VA 23086
King William Alpacas is a medium sized farm between Colonial Williamsburg and Richmond Virginia.
Each month our farm is open to visitors for herd health day. Here we provide information on basic herd health care as well as giving hands on experience trimming nails, giving shots, and body scoring.
In addition to animals we sell a varirty of products made from alpaca fiber such as socks, hats, scarfs, etc. We also offer a variety on handmade soaps made by us and since we keep bees we will sell farm honey when the bees make it aviable.
Please feel free to schedule a visit. We enjoy meeting people just thinking about it, as well as new and veteran breeders. We also are happy to host farm info tours for 4H clyubs, church groups, and school classes.
You will also find us at many of the local Farmers Markets and Festivals. http://www.kwalpacas.com/
Upper Mattaponi Spring Festival and Powwow Upper Mattaponi Tribal Grounds (Rt 30, 1 mile east of Central Garage)
13476 King William Rd
King William, VA 23086
Celebrate the heritage of the Upper Mattaponi tribe of King William County at their 24th annual Spring Festival and Powwow.
Grounds are open May 28-29 from 10 AM to 6 PM.
Grand entry is 12 noon on Saturday and 1 PM on Sunday.
American Indian arts, drumming and dancing, tribal displays and cultural demonstrations, and plenty of food and drink. Bring your lawn chairs and blankets.
This is a family event and powwow etiquette will be observed; absolutely no drugs or alcohol, and please no pets.
The Upper Mattaponi tribe is officially recognized by the Commonwealth of Virginia.
Date/Hours:
Saturday, May 28, 2011 - Sunday, May 29, 2011 (10:00 AM-6:00 PM)

Admission Fee: $3 -$5
Children Welcome
Telephone:
Frank Adams, powwow coordinator: (804) 769-3854
Upper Mattaponi Tribal Center: (804) 769-0041
Email:
frankglen@aol.com
Website:
www.uppermattaponi.org

Gloucester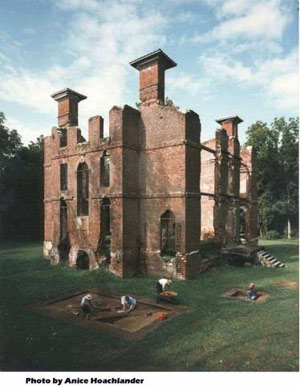 The Rosewell Foundation
The Rosewell Foundation
5113 Old Rosewell Lane
Gloucester, VA 23061
804-693-2585
One of colonial America's grandest mansions, Rosewell was built between 1725-1738 and gutted by fire in 1916. The Visitor Center features an exhibit and video, an archaeology lab, and a gift shop. Open year round - Monday thru Saturday, 10 am – 4 pm; Sunday, 1 pm - 4 pm. Adults - $4. Children 6-12 - $2. http://www.rosewell.org/
Brent and Becky's Bulbs
7900 Daffodil Lane
Gloucester, VA 23061
A visit to 'The Bulb Shoppe & Gardens' at Brent and Becky's Bulbs is a must for every gardener! At The Bulb Shoppe you will find everything from local artwork and home accessories to books and gardening tools. Since our specialty is flower bulbs, we have everything you could need for flower bulb gardening. During the spring and fall bulb planting seasons we have the largest bulb selection anywhere! Take a walk outside and sit under the gazebo to enjoy our Courtyard garden, or stroll down the pathways to view the Living Catalog Garden. This garden is a sample of everything offered in the previous seasons catalog. The gardens are always changing giving you something new to see! The Bulb Shoppe and Gardens are open Tuesday - Saturday, 10 AM to 4PM, mid-February through December. Visit our website for upcoming events. Telephone: Toll Free: (877) 661-2852 Local: (804) 693-3966 Fax: (804) 693-9436 Email: denise@brentandbeckysbulbs.com Website: www.brentandbeckysbulbs.com
Stagecoach Markets & Antique Village

6049 George Washington Memorial Highway
Gloucester, VA 23061
A "goldmine" of antiques and collectibles. More than 50 dealers of antiques, collectibles and used merchandise; including furniture, housewares, clothing, coins, concrete lawn items, trading cards...you name it, you will find it here! Approximately 100 flea market tables occupied every weekend. Come early! OPEN Saturday and Sunday only. Hours: Opens: 6:00 AM Closes: 5:00 PM
Telephone: Phone: (804) 693-3951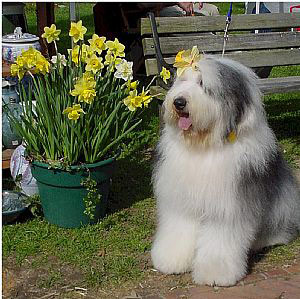 The Annual Daffodil Festival
The Annual Daffodil Festival Gloucester's welcome to Spring...the Annual Daffodil Festival. Begin the day with a 5K Race then catch your breath at the Parade! All-day entertainment includes storytellers, magicians, singers & bands. Pets and their owners are invited to participate in the "Magnificent Mutt Show" where everyone is a winner. Guided tours of Brent & Becky's Bulbs are a short bus ride away($). Fine Arts & Fine Crafts Shows feature local & regional artists. Follow your nose to the food court for fresh seafood, bar-b-que, funnel cakes, fries, burgers, chicken, and more. Children will enjoy clowns, facepainting, balloons, games & pony rides. Daffodil bulbs are on sale with Fall delivery. There is something to please the entire family...truly a full day of family fun. Saturday 9 am to 5 pm (parade at 10 am), Sunday Noon to 5 pm. Children Welcome, Pets Welcome Parks, Recreation & Tourism Office: (804) 693-2355 Special Events Supervisor: (804) 693-1264 Fax: (804) 693-0061 Email: dcarter@gloucesterva.info Website: www.gloucesterva.info/pr/events/df/homepage.html
Annual Renaissance Festival In July enjoy some Medieval adventures. Martial arts demonstrations, human chess, jousting, games for all ages. Merchants and food vendors. NO ADMISSION FEE. Children WelcomeTour Tourism Office: (804) 693-0014 Visitor Center: (804) 693-3215
Parks, Rec & Tourism front desk: (804) 693-2355 Fax: (804) 693-0061 Email: jgrazian@gloucesterva.info
Quilts of River Country In September experience this beautiful show of quilts and quilted apparel, old and new, displayed in the historic buildings of Gloucester Court House. Hand-quilting demonstrations, scavenger hunt, and Quilt Challenge Block. Vote for your favorite quilt and for your favorite quilt block. Enjoy this incredible art form and learn about the unique buildings where the quilts are exhibited. Fun for the entire family. Admission Fee: $2 - under 12 FREE Children Welcome Tourism Office: (804) 693-0014
Visitor Center: (804) 693-3215 Parks, Rec & Tourism front desk: (804) 693-2355 Fax: (804) 693-0061
Email:jgrazian@gloucesterva.info
Virginia Birding and Wildlife Trail: Gloucester Loop Great opportunities to view wildlife, specifically waterfowl, shorebirds, and gulls, abound along the Gloucester Loop. River channels, cordgrass marshes, tidal flats, and lakes with flooded snags and weedy coves are some of the aquatic habitats that attract water birds to this part of the Virginia coast. The wildlife watcher equipped with a canoe or kayak will find several venues to experience close proximity wildlife viewing. Deciduous woodlands and flower gardens add to the habitat diversity of the loop's sites. http://www.dgif.virginia.gov/vbwt/loop.asp?trail=1&loop=CGL
Gloucester Point Beach Park Gloucester Point Beach Park is located on the bank of the York River. This beautiful park has a large, shady and grassy area with picnic tables and a shelter. The swimming area and sandy beach are perfect for sunbathing, wading, sand castles and beach fun! The handicapped accessible Beach House, which is open seasonally, has a concession stand, restrooms and outdoor shower. For the fishing enthusiast, drop a line from the fishing pier. N-Out Convenience Store and Gloucester Tourism sponsor the Saltwater Fishing License. This license enables free fishing (no salt water license required) from the pier for everyone!

Williamsburg
Where America began and History lives. Williamsburg, Yorktown, and Jamestown make up the Historic Triangle of Virginia and are also well represented by world-class accommodations, attractions, restaurants, and golf. The beautiful city of Williamsburg is a family destination significant for much more than just its' prestigious historical past.
Over 4,000,000 people visit the Williamsburg area every year to experience the award-winning, authentic, interactive tours of the times and lives of our colonial ancestors, not to mention the great dining and quality shopping found throughout the Historic Triangle. http://www.williamsburg.com/
Colonial Williamsburg Step back in time to experience the exciting ideas and dreams of both great and everyday people on the eve of the American Revolution. The process of defining our country's values and beliefs started in the settlement of Williamsburg, Virginia more than 200 years ago, and it continues to this day.
With more than 500 restored and reconstructed buildings spread across 301 acres of land, and a staff of 3500 archaeologists, researchers, historians, and historical interpreters, Colonial Williamsburg truly presents a different time and place..
Busch Gardens Journey to the unexpected. Each year, Busch Gardens pushes the entertainment envelope with new and exciting thrills, award-winning shows, environmental presentations and delicious culinary delights. The worlds of Busch Gardens await adventuresome guests. Boasting more than 50 thrilling rides and attractions, nine main stage shows, award-winning cuisine and world-class shops, Busch Gardens offers something for everyone. http://buschgardens.com/bg/
Water Country USA As the mid-Atlantic's largest water park, Water Country USA offers 43 acres of pools, children's play areas, lazy rivers and water rides. Your family will have a blast at "Rock 'n' Roll Island," featuring nearly 600 feet of body slides, a 700-foot lazy river and a 9,000-square-foot pool. Rock 'n' Roll Island celebrates the music of the 1950s and '60s – the era that all of Water Country USA is themed after. Or take a "cruise" down Hubba Hubba Highway, Water Country USA's radical river adventure. For guests who want to relax, the park has about 1,500 free lounge chairs and 16 private cabanas for rent. http://www.watercountryusa.com/wc/
Yorktown
Today in Historic Yorktown, America's evolution from colonial status to nationhood is chronicled through a unique blend of timeline, film, thematic exhibits and outdoor living history. An outdoor exhibit walkway details events that led the to American colonies to declare independence from Britain.
Visitors can explore a re-created Continental Army encampment, where historical interpreters depict daily life of American soldiers at the end of the war. A re-created 1780s farm, complete with a house, kitchen, tobacco barn, crop fields, and herb and vegetable garden, shows how many Americansa typical American family lived in the decade years following the Revolution.

Jamestown
Colonial Jamestown offers a wealth of activities for exploring the first permanent English settlement in North America and is jointly preserved and administered by the Association for the Preservation of Virginia Antiquities and the National Park Service-Colonial National Historical Park.
Visitors can share the moment of discovery with archaeologists and witness archaeology-in-action at the 1607 James Fort excavation, tour the original 17th-century church tower and reconstructed 17th-century Jamestown Memorial Church, take a walking tour with a park ranger through the original settlement along the scenic James River, and even "meet" a 17th-century personality. http://www.virtualjamestown.org/
Richmond
Discover history, adventure and an easily accessible location in the Historic Richmond Region. Here, more than 400 years of American history live on through magnificent architecture, monument-lined cobblestone streets, and world-class museums – for an experience that's anything but textbook.
But the area makes history in other ways, too. Brave the gorgeous yet intense James River, which distinguishes the Richmond Region as the only urban setting with Class IV rapids. It's just one form of outdoor recreation for thrill seekers. Event planners will love the Greater Richmond Convention Center, a prime destination for meetings and groups. See how the Virginia Museum of Fine Arts is expanding its world-class offerings. And with more than 900 restaurants, diverse shopping and enticing events, the Region is ideal for weekend getaways and vacations.

Middle Neck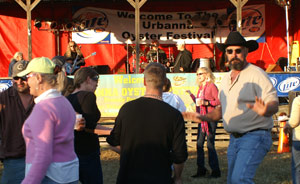 Urbanna Oyster Festival
Urbanna Oyster Festival Begun by a dozen or so local merchants and "town fathers" in 1957, it was originally called "Urbanna Days". The festival was established to promote the town and it's economy. In those first years the event was a relatively small gathering of local folks highlighted by a parade comprised primarily of antique cars. In 1961 the name was officially changed to the "Urbanna Oyster Festival" in recognition and honor of the succulent bivalve that was such an important part of the local economy. The crowning of a Queen and "Little Miss Spat" (a "spat" is a baby oyster) along with the selection of a grand marshal to honor local or state individuals held in high esteem became an important part of the tradition.In 1986 the prestigious Friday night Fireman's Parade began a truly exhilarating experience. In 1988, the General Assembly of Virginia designated the festival as the official Oyster Festival of the Commonwealth. In 1991, the Urbanna Oyster Festival Foundation was established to produce and manage the annual festival.
The festival has grown and so have the crowds. Crowds for the two-day event now number nearly 75,000. Food and craft booths number over 125 and the Fireman's Parade features over 80 engines of every size and description. The Oyster Festival Parade on Saturday features over 80 units including numerous marching bands, antique cars, locally produced floats and the renowned Khedive Temple Shrine Club of Norfolk. http://www.urbannaoysterfestival.com/
Deltaville Maritime Museum and Holly Point Nature Park
Route 660
Deltaville, VA 23043
804-776-7200
Museum celebrates the "Capital of Chesapeake Bay Boatbuilding," with exhibits and hands-on projects for boat nuts. Nature Park includes several themed gardens, a nature trail punctuated with bronze wildlife sculptures, a 350-foot Pier walk on Jackson Creek and a living shoreline exhibit. http://deltavilleva.com/museumpark/Default.aspx
Northern Neck
Tides Inn Five Star Resort Bordered by historic Chesapeake Bay to the east, the Potomac River to the north, and the Rappahannock River to the south, the Tides Inn, a Chesapeake Bay resort, exudes a Virginia setting like no other.
The Tides Inn offers a serene setting with its own marina, 18-hole golf course and a luxurious spa. The perfect retreat for those who wish to combine relaxation and rejuvenation in Virginia's countryside.
Among the most popular services provided by Tides Inn are our famous Virginia golf vacations, Virginia wedding reception parties, as well as our renowned Chesapeake marina. Continue reading to learn more about everything there is to do and see at The Tides Inn! http://www.tidesinn.com/
Virginia Golf Vacations at Golden Eagle Golf Course Among the top golf locations in the nation, the Golden Eagle Golf Course provides one of the most challenging and enjoyable Virginia golf vacations for beginners and professionals alike. The Golden Eagle hosts several tournaments throughout the year and provides private lessons for guests. Please see the Golden Eagle Golf page for more information on Virginia golf vacations.